Cloudy Bay: Pinot Noir Cellar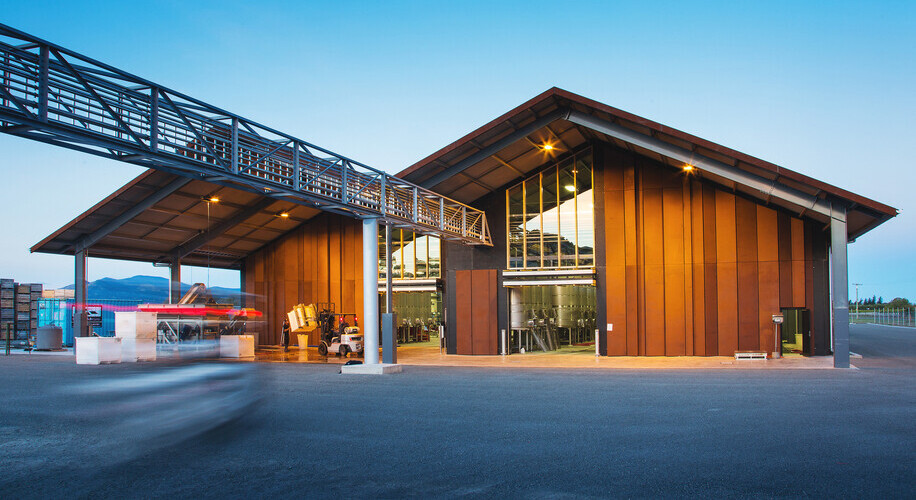 Gold Award Winner 2017, Industrial Category, NZRMB Commercial Project Awards
Designed by Paul Rolfe Architects, this facility surpasses mere functionality and adds itself to the new generation of building stock on the Cloudy Bay Estate. The design employs high quality finishes and abundant natural light to showcase the process of grape delivery, crushing, plunging, fermentation and storage.
Working with Davidson Group, the lead consultant and engineers for the project, and Paul Rolf Architects, Scott Construction Marlborough completed the new Pinot Noir Cellar for Cloudy Bay Vineyards in February 2015, in time to be operational for the 2015 vintage.
There were a number of clever additional architectural features added to the original plans for this 2000m2 building. These additions meant the start date shifted out, but we worked intensively to ensure the completion date never altered for the client. The team really understood the commercial needs of this client, as they do with all commercial operations, so we adjusted the project and staff resources to ensure that the client received this build on time and to specifications.
Davidson Group initially invited four commercial contractors to tender for the job. At the end of the day, it was Scott Construction that was commissioned to complete the work.
There were many architectural details involved in this build. These included significant volumes of exposed structural steel and precast concrete for finished surfaces, pre-weathered Corten steel cladding on the west and south elevations, as well as the underside of the roof cladding to be exposed as a design feature to match the existing Cellar No. 4.
The client representative's and consultant's practical can-do-attitudes and their desire for the project to be successful, matched that of the Scott Construction Marlborough team.
Not only does this building add real value and capacity to the client's operations, it also has enhanced the visual landscape. This aesthetically pleasing hi-spec architecturally designed facility is something that everyone involved can really be proud of.
The Technicalities
The build was completed in the following stages:
• Foundations, bulk excavation and backfilling.
• Structural steel erection and subfloor services.
• Precast wall erection and roof installation.
• Exterior wrap, window, and door installation.
• Completion of subfloor services.
• Interior ground slab construction.
• Interior fit-out.
• Exterior cladding and specialist doors, drainage and site-works.
Vertically bi-folding glazed doors not only provide a clever access solution, they also allow natural light into the facility and provide an insight for visitors of the internal workings of the facility, showing off the stainless steel tanks and catwalks.
It was all in the planning. When working to tight timeframes, simple construction choices can make all the difference. For example, the precast wall panels were cast off-site in a covered facility to ensure delivery would not be delayed by inclement weather.